OUR PRODUCTS ARE DESIGNED TO ENHANCE, EXTEND, AND PROTECT YOUR OUTDOOR LIVING SPACE AND EXPERIENCE. PRESTIGE PERGOLAS IS THE AUTHORIZED DISTRIBUTOR FOR THESE PRODUCTS. THEY ARE EACH, THE FINEST AVAILABLE IN THEIR RESPECTIVE INDUSTRIES, IN THE WORLD!
SUNDANCE ALL SEASON PERGOLAS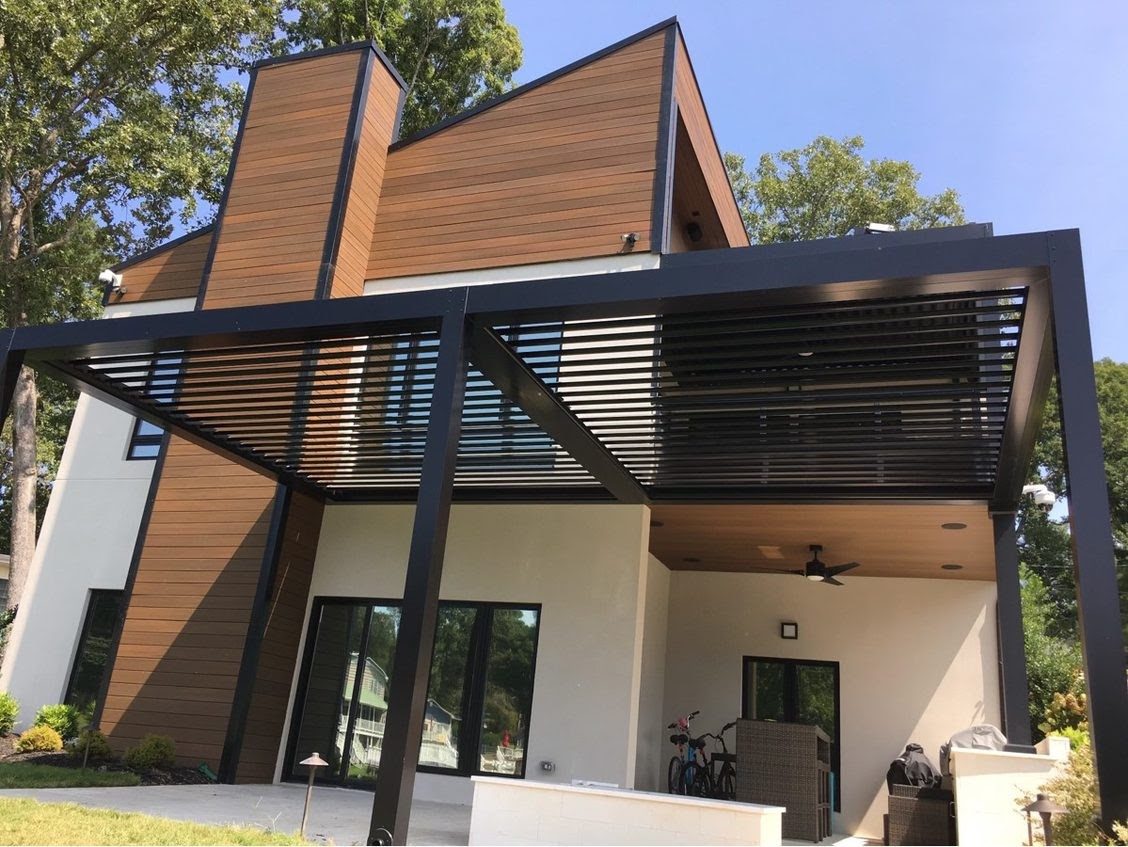 6 Ways to Take Control of Your Outdoor Living
Outdoor living has become a way to spend time with family and friends. 
Most patio covers or pergolas limit your use because you can't control them.
Here is a great way to increase your outdoor living time. Install a Sundance All Season Pergola and control the louvers in 6 different useful ways.
Shade Control
By operating the motorized louvers with the remote control, which takes 16 seconds to fully open or fully close, you can adjust the shade exactly where you need it, any time you desire.
Sun Control
When you want sun on the patio or coming through your windows or patio doors, you can easily get it by opening the louvers to provide up to 85% of the natural light. 
Ventilation Control
The amazing thing about the Sundance All Season Pergola is when you open the louvers, you get almost 100% ventilation because they are parallel with each other.
Rain Control
Because the Sundance All Season Pergola has interlocking louvers with a drip edge, the rain simply runs into the louver troughs and then out into the full perimeter gutter. It can then run into the post as a downspout or through a regular downspout. Finally, it can be saved in a rain storage device or directed to water the lawn or garden.
Leaf Control
The Sundance All Season Pergola is the best leaf control cover because the gutters are made to receive standard leaf screens.
Louver Cleaning Control
We call the 150° louver opening "Easy Cleaning Mode". This is because, at that angle, you can clean the top of the louvers from underneath. No other type of patio cover offers that feature only a louvered pergola. You just open the louvers to 150° and take a garden hose to spray the top of the louvers clean. If needed, you can use a soft brush and mild cleaner to get off any stubborn spots. Then close them and spray the bottom of the louvers clean.
Advantage over the competition
Product Details
We are one of the largest aluminum louvered roof manufacturers in the United States. Our manufacturing facilities are located in Ogden, Utah, and Jupiter, Florida, and we have facilities set up in Cape May New Jersey, Minot North Dakota, Lake of the Ozarks Missouri, and Tucson Arizona.
The Sundance All Season Pergola is made of durable extruded tempered aluminum and comes with a maintenance-free powder-coated finish. Our louvered pergolas are made to withstand up to 160 mph winds and up to 60 lbs per sq ft of snow loads. Full engineering for our louvered pergola is available on-line. We offer the Sundance adjustable louvered pergola in several stock colors, as well as several custom colors. Our tectonic arched louvers can span longer than any other louvered roof product on the market. Our patented design makes Sundance the next-generation louvered all-season pergola.
WHAT MAKES OUR LOUVERED PERGOLA UNIQUE?
Louvers: Each louver has a tectonic arch and 6 vertical girders (this allows our louvers to span up to 25% farther than any other louver on the market), all louvers are rotated using a low-friction, stainless steel, ball-bearing system (making our motor able to open more square feet of louvers which will last much longer). Each louver also has two large rain troughs to handle hard rains and a flat bottom side, which provides a beautiful tongue-and-groove appearance when closed.
Gutter: The louvers drain into a much larger capacity gutter than the competition, two patented LED light strip shelves, a standard gutter screen option (only one in the industry), unique crown molding design.
Smart Phone Controller Option: Our louvered pergola has the option of being controlled with a smart device, a hand-held remote which can control up to 16 bays.
HOW DOES A LOUVERED PERGOLA COMPARE TO OTHER TYPES OF AWNINGS AND PATIO COVERS?
Click to see this info: "When can I use my patio?"
HOW IS THE SUNDANCE LOUVERED PERGOLA DIFFERENT FROM ALL OTHER LOUVERED PERGOLAS?
The Sundance louver is stronger than other louvers because it was designed with a "tectonic arch". Most other louvers have a maximum 12' span, but ours will span up to 16'.
The Sundance gutter holds up to 40% more water, is the only one designed to receive standard gutter screens, is the only one to have LED strip light shelves built-in, and is the only one with a crown mold curve design.
The Sundance louver is the only one made in the USA to have ball bearings at each end of the louver for less friction and longer life without the metal to metal squeaking you get with most other louver systems.
The Sundance louver has and exclusive rubber gasket to help block out light and seal between the louvers.
The Sundance post to beam connection is the strongest on the market, designed to attach a large portion of the post directly to the beam.
The Sundance pivot bar is the only one to connect to the louver using our exclusive pivot bar bearings for minimal friction and much longer mechanism life.
Commercial
Commercial Louvered Pergola
Because of its heavy-duty design, the Sundance All Season Perogla is perfect for:
Restaurants
Hotel Patios
Park Pavilions
Winery Tasting Stages
Business Outdoor Rest Areas
Church Patios
Government Shelters
RESTAURANTS
Using the Sundance Louvered Pergola on your restaurant patio increases your seating capacity on wet days as well as hot sunny days because you can adjust the louvers for Sun, Shade, or Shelter.
One restaurant owner said, "Before we had the louvered roof installed, we could not get the customers to go out under the umbrellas, now they all want to be out there, and nobody stays inside."
Sundance Louvered Pergola Commercial Features
Longest louver span in the industry
Largest built-in gutters
Mounts to spec structural beams
Custom colors
14 ADVANTAGES OVER OTHER LOUVERED ROOFS
The Sundance Louvered Roof was invented from the ground up,
thinking completely outside the box with these 14 features. 
Deepest and largest volume gutter on the market with two levels of LED light shelves.

6"x 6" heavy-duty extruded aluminum posts, which also can serve as downspouts.

2"x 8" heavy-duty extruded aluminum beams for longer spans between posts.

160 ° louver opening to catch more sun or adjust for shade as needed.

Beautiful, Designer heavy-duty extruded aluminum gutter (crown molding style).

Easier and quicker installation with innovative louver spring pins.
Gutter screen (the only one in the industry) for keeping leaves from clogging gutters.
Double skin insulated louvers, which reduce the heat transfer to the bottom.

4 structural girders inside the tectonic arch louver and two vertical stabilizers outside the louver resulting in the longest span and strongest snow load capacity in the industry!

Beautiful, flat, tongue-and-groove finished ceiling look when Louvers are closed.
Bumper/gasket to resist leaks and give quiet operation when closing Louvers.

Low friction ball bearings on each end of the louvers –1st in the industry for much longer product life instead of metal to metal grinding and squeaking.

IP-66 (waterproof) motor for any climate with 18-second travel each way for pinpoint shade.
Remote controlled and/or hardwired switch motor operation, as well as an in-home wall remote (optional). A smartphone controller option is also available.
All of these advantages will allow you to have a more robust, better looking, and longer lasting louvered roof, but the most important thing they provide is more outdoor living time for you and your family.
MAGNATRACK SCREENS by PROGRESSIVE SCREENS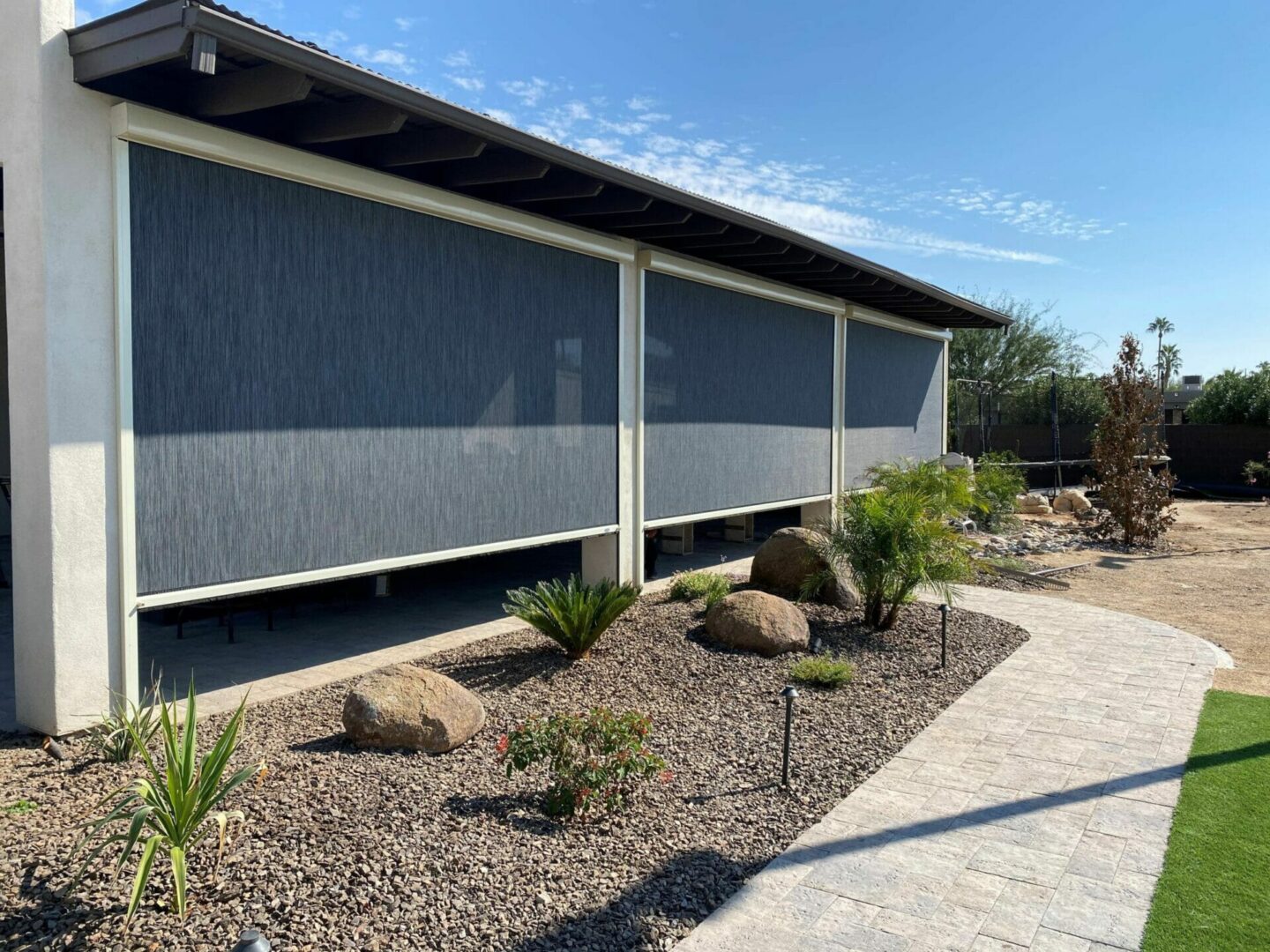 ASK ABOUT FANS AND LIGHTING